Date:
Wednesday, December 31, 2014 - 18:00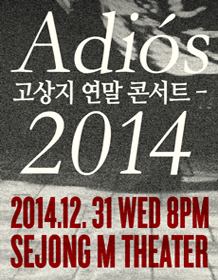 Koh Sangji's End Of The Year Concert
Adiós 2014
Recreating the "Bueno Aires' Milonga" right in the city center of Seoul
Koh Sangji on bandoneon, performing tango music,
A special performance by dancers & maestros, 'Paso Han' and 'Jung DongEun'
* Adiós 2014! Spending the very last day of the year 2014 with tango
Having had a very hectic schedule after the release of her studio album <maycgre 1.0>, the tango composer and bandoneonist, Koh Sangji, is going to be sharing her evening on the last day of the year 2014 at the Sejong M Theatre on December 31st with everyone. With reviews such as, 'A complete and whole instrumental album', her first studio album received much satisfactory praise from her many devoted fans, even adding assurance through her sold out show held in the past October. Quoting fan reviews such as, "We didn't think she could get this far", "Her songs are really good, not to mention her incredible performance", "Even her awkward comments in between songs are enjoyable", and "Each and every song kept me on my toes", her end of the year concert holds much anticipation and expectation.
* Koh Sangji's unique style and method gives birth to a new tune of beauty
Koh Sangji's music is not just rooted in the Argentine tango; her music also contains much of Asia's excitement and variations. With core inspiration sprouting from animations, to the beautiful and rhythmic waltz, Koh Sangji combines all the elements to create a whole new spectrum of tango, acquiring the status as a Nuevo tango musician.
* Recreating the Buenos Aires' Milonga with Paso Han and Jung DongEun
The upcoming concert is going to be a very special one; accompanied by Korea's very best tango dancers and maestros, 'Paso Han' and 'Jung DongEun'. With over 10 years of experience, and 4 years spent studying in Argentina's Bueno Aires, they have received much recognition as the champions of Asia Pacific Tango Championship (2012), 9th World Tango Championship in Asia (2012), etc. With much passion and intensity, the very last day of the year 2014 is going to be one to be remembered for years to come.
Date: 2014. 12. 31 (Wednesday) PM 8:00 @ Sejong M Theatre
Price: (All Seats) 66,000 KRW
Tickets: InterPark (http://goo.gl/5RTvo6)
Presented By: Private Curve Co., Ltd. 02)563-0595
General Inquiries: (i.e. members of Tango Community & Group Discounts) (Justin Park: 010-9164-7763)