Date:
Repeats every week 50 times.
Saturday, November 26, 2022 - 19:00
Saturday, December 3, 2022 - 19:00
Saturday, December 10, 2022 - 19:00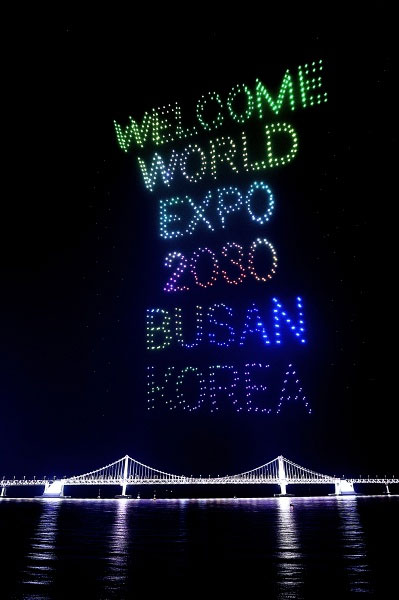 From: https://www.busan.go.kr/eng/bsevents/1523506
Gwangalli Marvelous Drone Light Show
○ Period: Year-round starting April 2, 2022
Every Saturday, at 19:00 and 21:00
○ Hours: October to February 19:00, 21:00 / March to September 20:00, 22:00
○ Venue: Gwangalli Beach
○ Length: Runs for about 10 minutes under various themes
○ Free admission
○ For more info.: (051)610-4884
○ Website (Korean):
Suyeong-gu official Youtube Channel 'Suyeong-gu TV' Live Stream:
https://www.youtube.com/channel/UCEXyxSVHKuVaCfmBiXf2cPg
Suyeong-gu Office is holding the Gwangalli M Drone Light Show around Gwangalli Beach every Saturday as a year-round event for the first time in the nation. The Drone Light Show involves 300 unmanned aerial vehicles (drones) displaying spectacular performances that paint the night sky with various content.
The show can be viewed alongside Gwangalli Beach and there are two viewing areas in front of Suyeong-gu Cultural Center and the meeting square at the beach's entrance.
The show schedule may change due to the COVID-19 situation and inclement weather conditions.