Visit www.epeople.go.kr, the online portal system that integrates petition, proposal, and policy discussion services operated by 303 governmental organizations including central administrative organizations, local autonomous bodies and public institutions.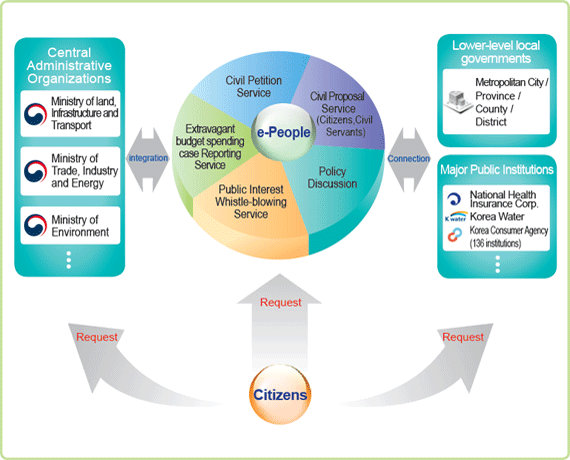 Do you have some complaints about administrative organizations?
Do you wonder where to resolve your complaints?
Do you want to know how long you should wait?
You no longer need to wander from place to place to file petitions.
Do you have a good idea about an unreasonable system or custom?
Your creative proposal will be screened and reflected in governmental policies to modify unreasonable systems positively.
Do you want to talk about governmental policies and measures?
The people may suggest an agenda, cast experts, hold a forum, or participate in policy debates operated by administrative organizations and e-public hearings.
[Corruption Reporting Service]
Have you ever witnessed an illegal act caused by a public official?
Your report and consultation about corrupt practices make Korea clean. This service includes the reporter's personal protection.
[Administrative Judgment]
Are you under unfair administrative disposition?
Unlike the existing process of administrative judgment exerted in writing, you may easily use our online service to request administrative judgments or ask to process and get results.