I just returned from the requisite trip to Jeju-do, Korea's largest island and southernmost point. I've been here nearly five years and hadn't visited yet, despite the fact that it's only a thirty-minute cheap plane ride from my fair grungy port town. A flight to Jeju is only neglibly more expensive than a train to Seoul, yet I've been to Seoul about ten times now.
I went with girlfriend Lucie, which is really the way most people visit the isle. Jeju is the honeymoon destination of preference for most Koreans, as it is cheap and near to get to, and offers a bit of difference, while still being withing the comfort zone of Joe and Jane Normal. Think Hawaii for Americans, despite the fact that for the time and expense, most Americans could travel to a cool and crazy foreign country. But Hawaii is said to be absolutley lovely, so that alone is an attraction.
My trip to Jeju was terrific, despite the fact that we went on the tail-end of the rainy season and the weather was bordering on nasty much of the time. The fact is that it only truly rained twice: Once on Saturday night, and pretty much ALL DAY yesterday. Yesterday's rain was not really "rain" in any conventional sense of the word: it was a tropical depression, a monsoon squall, a near-typhoon. Lucie and I drove (we rented a car) to a restaurant about twenty kilometers from our pension/guesthouse located in the hilly countryside, only to see the wind and water increase exponentially as we rounded each corner. The drive back was the hairiest I've yet undertaken, with flooded roads, high-winds, and near-zero visibility. A pure blanket of violent piss slammed our poor little Matiz (think GM Geo Metro) as I limped it back to our lodgings. I've never seen rain so brutal or pure. Islands do suffer the brunt of storms, and last night I felt it first hand. Man oh man, we often underestimate the power of nature unleashed. At least I do.
Jeju was cool - cooler than I expected. It IS Korea but often feels like another place, another country even. It's laid back, clean, beautiful, and generally un-fucked-up. The island is one massive extinct volcano (Hallasan), surrounded by many lesser, long dead craters. During the wet season it's green as it gets, with a black volcanic rock coastline, punctuated by some really lovely little beaches. The air is clean and the vibe - like most islands - is well laid-back. It'd be a great place to live a relaxed life and raise kids. My overall impression was very positive.
This post was originally going to describe the five days I spent there with Lucie, but not a lot needs to be said: We laid around a lot and slept even more; we ate piles of grilled meat and boatloads of raw fish; we drove the backroads and took in the trees, rocks, and strange mountainous formations; we swam in the clean waters - resulting in me nearly BREAKING MY LEFT ARM while bodysurfing on the first day; and we saw strange museums and "theme parks" - some of them truly bizarre, like the following:
LOVE LAND
Envy?
Pick your pisser accordingly...
Loveland proved that the Koreans are still pussyphobic. Despite the sexual trappings, no detailed depictions of vaginas could be found. It's almost as if they'd been blurred out.
His dog makes him hard.
The artist was shot before he could really do the snatch.
I like this one. I'm a sucker for half-shed panties...
Tit mounds!
Lucie mounts the biggest cock in The K. Wishful thinking?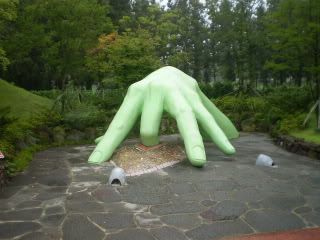 Fingering the eternal clam.
Big dog dicks were a continual theme.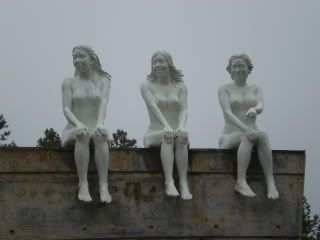 Astonished nude roof nymphs.
One in a series of "ethnic" pieces: Japan.
Aprika.
Greece.
Sportin' "wood." Huhuhuhuhuhuh.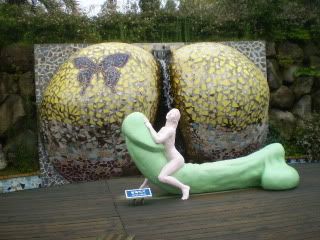 There it is. The whole burrito.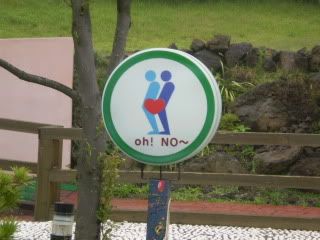 This was one of several "humorous signs" up around the joint. This one made it clear that gay sex is frowned upon in Korea's "Loveland." Please.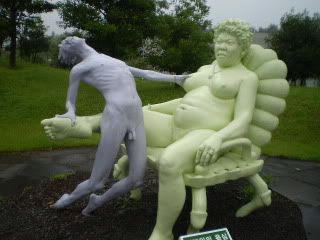 This is my favorite series: Terrified SKINNY GUY desperately tries to escape the insatiable maw of the the BIG GIRL.
This. Is. The. Korea.