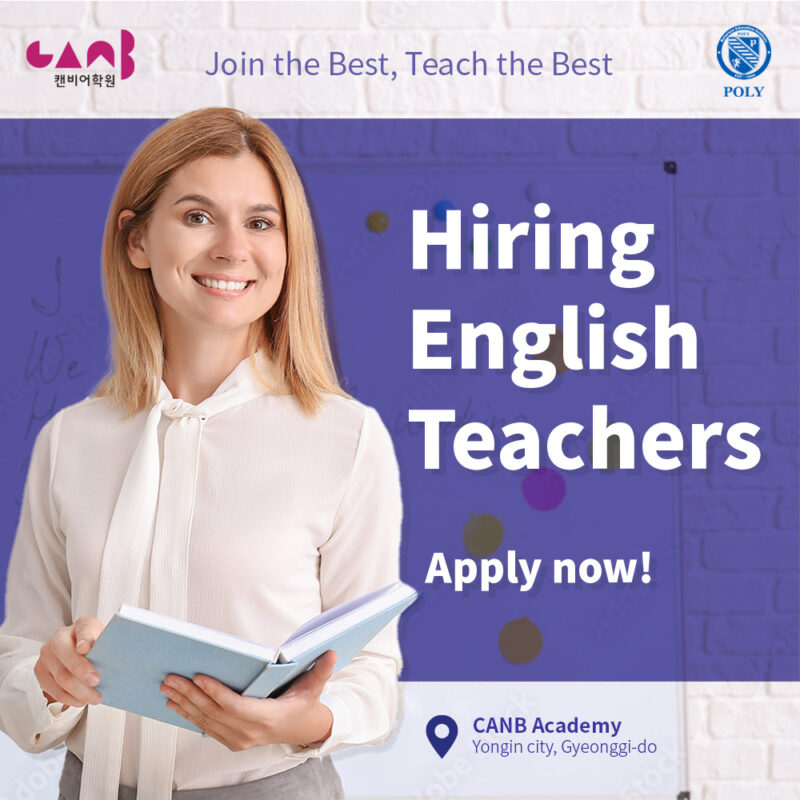 Apply Now: https://bit.ly/3P3ZSvW
CANB Academy is looking for two full time English teachers to start teaching this September
(training will take place prior to the classes in August).
JOB OVERVIEW
Monthly Salary: 2.3 ~ 4.5 million KRW (depends on teaching experience)
Requirements: Native Speaker
Working Hours: M – F 1:30 PM – 9:30 PM (No weekend classes)
Class Length: 50 mins.
Classroom Size: 12 students max
Students' age: Elementary to Middle School Students
Contract Duration: 12 months (with the possibility of extension)
Number of Positions: 2 positions for September 2022
Starting Date: Beginning of August for training
BENEFITS & COMPENSATION
Housing: Free furnished housing (In the vicinity)
Vacation: Paid Leave is granted as provided by the Labor Standards Act, and in agreement with the contractor, CANB Vacation will be replaced with an annual paid vacation.
Other: Medical insurance & Pension, Severance pay upon completion of contract.
LOCATION
Suji, Yongin city, Gyeonggi-do (수지구청역, only 30min from Gangnam station)
Address: 경기도 용인시 수지구 수지로296번길 51-11
To apply, please fill out this form:
For inquiries and more information visit the website:
https://www.canb-english.com/canb
Or please email us:
 [email protected]
Are you a licensed recruiter? :
Recruiter Documentation:
https://www.canb-english.com/canb