Date:
Friday, September 12, 2014 - 14:10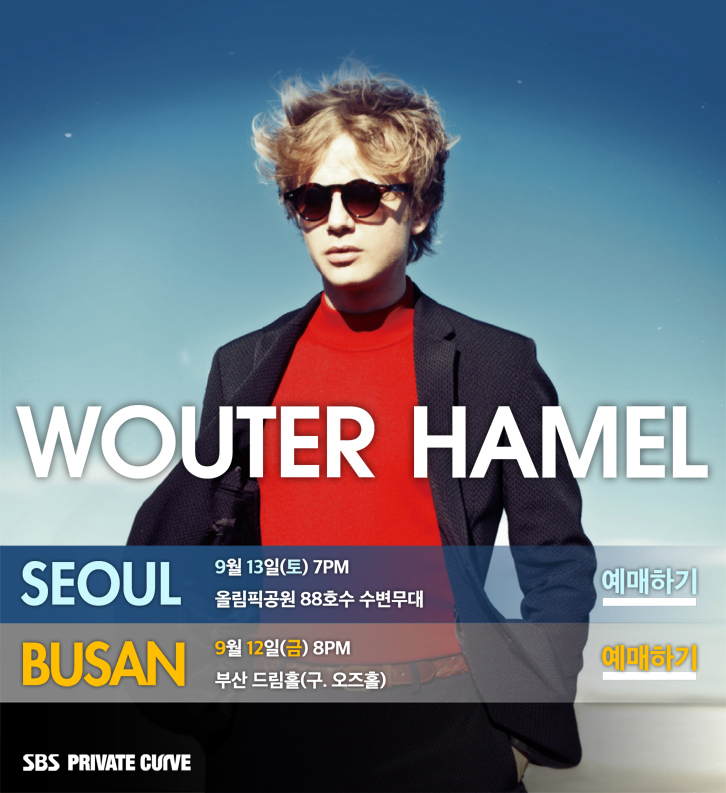 Having presented nearly all sold-out shows in Korea thus far, Wouter Hamel had last held his show at the main stage of the Seoul Jazz Festival 2014 this past May which received such a grand reception comparable to that of a Korean Idol group. Wouter Hamel is known for his melodic, all the while modern tunes, and his shows are always refreshingly satisfying. The chemistry with his long-time band is nonetheless unique and very special to observe. These are just some of the reasons why Wouter Hamel's music and shows are continuously loved.
With the release of a new album this past March [POMPADOUR], the Netherland's very own Wouter Hamel is going to perform a very special program come this September 12th and 13th in Busan and Seoul, respectively. With his words to briefly summarize what to expect, "A show full of energy and electricity, come prepared to truly have fun this September!"
Nicknamed 'Mr. Silky Voice' after his soft voice, Wouter Hamel had risen to spotlight after his debut album [Hamel]. With hit songs such as 'Breezy', he had really grasped the attention of the media and have thus secured a fan base in Korea and Japan. Moreover, through his album [Nobody's Tune] in 2009, the songs 'One More Time On The Mary-Go-Round', 'March, April, May', etc. had received much love and praise, all the whole receiving a platinum album.
There was never a mention of 'Benny Sings', even during his multiple touring years, until the newly released album [POMPADOUR] this past March. When the song 'Live A Little' was specifically first introduced to Korea and Asia, his message of 'living life to the fullest' along with the musical content had entered the hearts of the many. Further, as the first track and recognized in the Netherlands as the title track, 'The Light' and 'Hollywood', the album [POMPADOUR] contains 14 tracks altogether and was first released in Korea before any other regions, treating the Korean fans to this special gift.
On September 12th, at the popular young district of Soemyeon – Busan, Wouter Hamel will be holding an all-standing concert at the Dream Hall (Oz Hall) and on September 13th, at the Olympic Park – Lakeside Stage that will be full of the autumn breeze under the moonlit sky. A fun-filled evening in both the club and outdoor venues is bound to be an eventful, and unforgettable, evening for all!
Wouter Hamel Live in Busan tickets will be on sale on Thursday, July 10th, 2014 @ 2PM and Wouter Hamel Live in Seoul tickets will be on sale on Thursday, July 10th, 2014 @ 12 PM through Interpark.
Busan – standing: 66,000 KRW
Seoul – seats: 88,000 KRW.
(http://ticket.interpark.com/Ticket/Goods/TPBridge.asp?GoodsCode=14007124)
General Inquiries) 02-563-0595