Date:
Repeats every day until Sun Oct 02 2022.
Saturday, October 1, 2022 - 19:00
Sunday, October 2, 2022 - 19:00
From: https://www.busan.go.kr/eng/bsnews01/1536432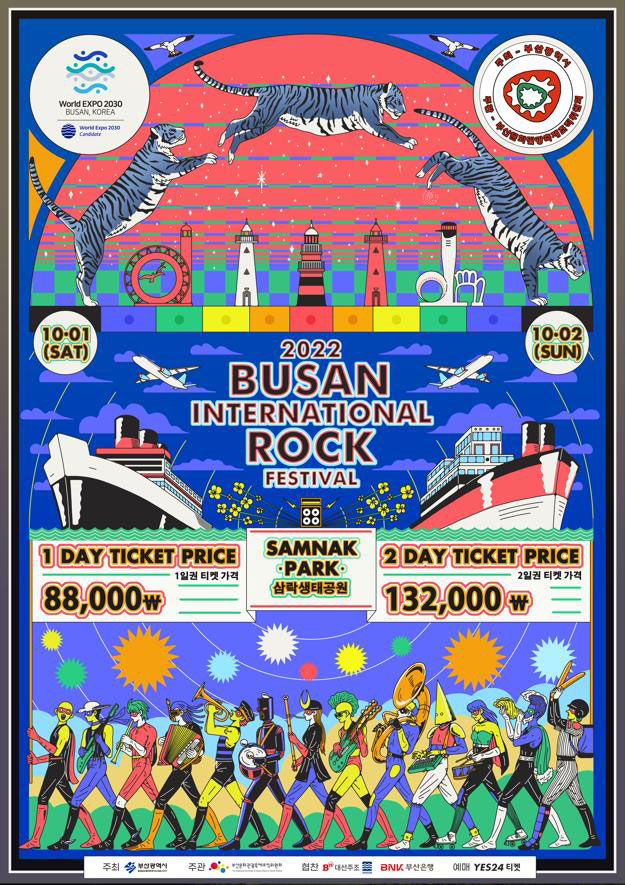 The City of Busan has announced that the 2022 Busan International Rock Festival will take place from October 1 to 2 at Samnak Ecological Park in Sasang-gu.
A total of 10 acts as part of the first lineup announcement for the 2022 Busan International Rock Festival was announced on August 1, 2022.
This year's festival will feature a mix of international and Korean artists. The first 10 acts to be announced feature 7 Korean acts, including Jannabi, SE SO NEON, Glen Check, ADOY, Galaxy Express, HATHAW9Y and SILICA GEL and 3 international acts, including HONNE, an English electronic music duo; Hila Ruach, an Israeli Indie Rock singer and I Mean Us, an alternative rock band from Taiwan.
The Busan International Rock Festival took place online and offline last year and recorded about 5.2 million views on its YouTube and Tiktok channels. The festival is back to normal this year after three years of the COVID-19 pandemic.
Early-bird tickets are available at Yes24 Ticket starting on August 2, 2022 at 2:00 p.m., with a 25 percent discount. Official ticket sales will begin in the middle of August at Yes24 Ticket. Tickets for the festival are priced at 88,000 Korean Won for a one day pass and 132,000 won for a two day pass.
For more information, please visit the festival website at www.busanrockfestival.com or call the festival organizing committee at (051)713-5051.
The second and third scheduled lineup announcements for this year's festival will be made at the end of August and the beginning of September respectively.
2022 Busan International Rock Festival
○ Period: October 1 – 2, 2022
○ Venue: Samnak Ecological Park
○ Website: https://busanrockfestival.com/
○ For more info.: (051)713-5051