Freedom in Korea Begins with Diseased Pigs
Printer-friendly version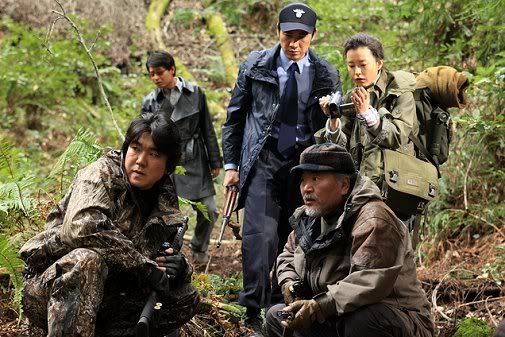 Why just sell pork when there's a more insidious opportunity beckoning? Good news is, South Korea's live pig-culling orgy has helped US beef imports jump amid foot-and-mouth disease.
Market watchers attributed the rising popularity of U.S. meat in South Korea to the spread of animal diseases that forced the nation to cull over 3 million livestock in the last three months, due to the most severe FMD outbreak in the country's history.

In December, imports of U.S. beef to South Korea spiked to nearly 2,500 tons a week, according to the federation.
Now, it's time for a new travel industry ploy with ideological appeal: ridding the US South of feral pigs.
Next week, I'm headed down to rural Georgia to work on a story about invasive species—specifiically, the idea that the best way to get rid of destructive non-native animals is to get people to eat them. Jackson Landers, a.k.a the Locavore Hunter, aims to whet American appetites for invasive species like lionfish, geese, deer, boar, and even spiny iguanas by working with wholesalers, chefs, and restaurateurs to promote these aliens as menu items. As Landers recently told the New York Times' James Gorman, "When human beings decide that something tastes good, we can take them down pretty quickly."

I'll be accompanying Landers and a few of his friends on a hunt for invasive feral pigs, which have proliferated over the last decade in much of the southeastern US, competing with native species for food and wreaking havoc on farmlands with their rooting. They're particularly problematic in coastal areas, where they eat the eggs of endangered sea turtles.
So, here's my notion: South Koreans can visit an English-speaking country, learn to use guns to waste pigs and other weird critters, get some meat, and learn the fine art of Second Amendment anarchism from the cream of Americans, southerners. Returning to the land of northern gulags and southern dictators, these newly-reformed fanatics will lobby for a Second Amendment of their own. And, in ten or fifteen generations, voila! Korea will be free!
Powered by ScribeFire.
Filed under:
Business/Economy
,
Korea
,
USA
Tagged:
boar hunting
,
feral pigs
,
foot and mouth disease
,
rok
,
us beef imports
---