Dear Korea #134: They're Catching On
Printer-friendly version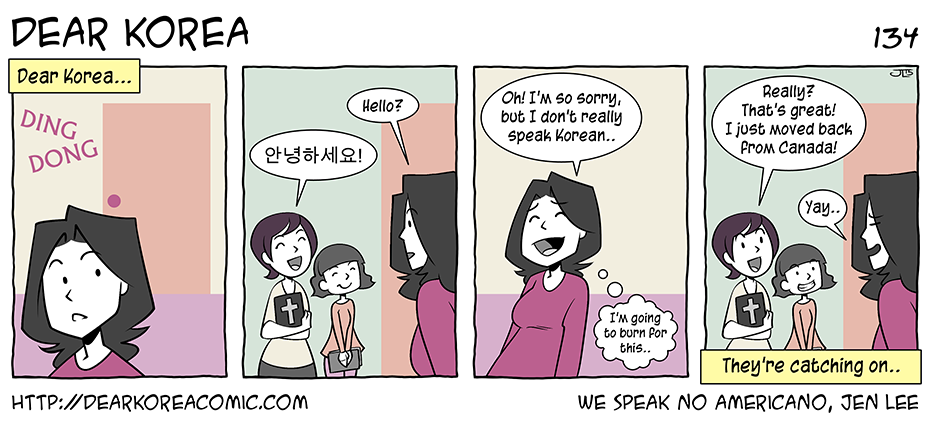 I just realized I made two strips related to language barriers in a row. Oops. Oh well, it's too late to do anything about it now.
I've dealt with situations in this week's strip on multiple occasions in different ways. When I worked from home more, I was visited fairly often by different traveling religious types. Most of them were quite nice, but didn't seem to know how to take "no" for an answer. I eventually got tired of making up reasons why I couldn't let them in my home, so attempted to pretend like I didn't understand Korean. Some of them actually tried to speak English, though they struggled. Some of them spoke perfect English. In one situation, one woman whipped out a tablet that had the video she had been wanting to show me with English subtitles. That also happened to be the one time I answered the door wearing only a bathrobe after hopping out of the shower. Fun times.
While I'm not particularly a fan of having religious sales people interrupting me from my showers and daytime naps, they really do deserve props for being tenacious.
---
Jen Lee's Dear Korea
Got any questions, comments, or maybe even some delicious cookies you want to send through the internet? Feel free to contact us at dearkoreacomic at gmail dot com.

You can also leave comments on the comic's Facebook Page!
---