Dear Korea #082 - There's No Need For That
Printer-friendly version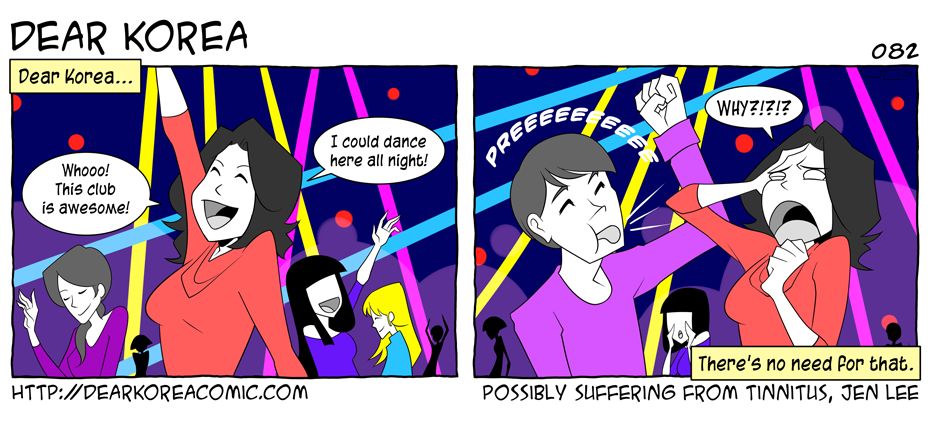 Argh, late again. I do apologize! There's been so much going on in life, including a bunch of random changes to my very strange schedule. On the bright side, starting in April, updates should be much more regular. The comic might even go back to its old weekly schedule (yay!), though it's still a little too early too tell.
While I've never been that into the whole clubbing scene, I have come to gain an appreciation for Korean clubs. Maybe it's because I enjoy electronic/house music (though they can go a little overboard), or maybe it's because everyone isn't so awkwardly close together all the time, but I often find myself having a fairly decent time whenever I do go to a club in Korea (Gwangju, to be specific).
That being said, there always seems to be that one guy who feels the need to blow a whistle as loud as he can to the music, making an already loud experience into a painful one. Despite many clubs having signs that say no to things like whistles, no one seems to care enough to put a stop to it. I honestly didn't mind it so much the first few times, but I've quickly come to liken whistles at clubs to vuvuzelas at soccer games. I know it's an odd thing to bring up, but I guess it's just one of those things that have always stood out to me. Maybe it's just a sign that I'm getting too old for the club scene. Who knows?
Do any readers out there enjoy hitting up the clubs? If so, recommendations are always appreciated!
---
Jen Lee's Dear Korea
Got any questions, comments, or maybe even some delicious cookies you want to send through the internet? Feel free to contact us at dearkoreacomic at gmail dot com.

You can also leave comments on the comic's Facebook Page!
---