Madame Butterfly @ Sejong Center
Printer-friendly version
Date:
Friday, June 24, 2011 - 19:00
From VisitSeoul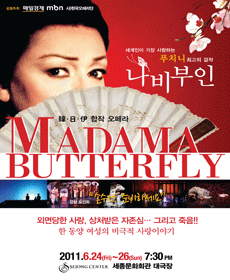 Grand Theater, Sejong Center for the Performing Arts

The most fantastic opera series of 2011: Madame Butterfly

A tear-packed tragic love story unfolding in the background of Nagasaki Harbor!

You are cordially invited to breathtakingly beautiful opera Madame Butterfly at Sejong Center for the Performing Arts this June. The touching opera will be directed by the world-class director Maurizio Di Mattia of Arena di Verona, and performed by internationally celebrated Korea's own Madame Butterfly Lee Hyun-sook, and Japan's voice of fantasy, Ando Fumiko.

The stunningly picturesque and colorful Madame Butterfly will leave a deep lasting impression, with wonderfully mournful arias and magnificent feast of chorus, beautiful duals like One Fine Day, Humming Chorus and Flower Song, and stage and costume design that will transport the audience back in time.
CASTING SCHEDULE-

Fri.Jun. 24, 2011
CIO-CIO SAN : GIULIA LEE
F.B.PINKERTON : ALESSANDRO LIBERATORE
SUZUKI : YAMG SONG MI
SHARPLESS : HAN, MYUNG WON
BONZO : SOHN, CHUL HO
YAMADORI : KIM, DAE SOO
GORO : RYO, KI YOUL

Sat.Jun. 25, 2011
CIO-CIO SAN : FUMIKO ANDO
F.B.PINKERTON : HA, SEOK BE
SUZUKI : WAKAKO ONO
SHARPLESS :HAN, MYUNG WON
BONZO : SOHN, CHUL HO
YAMADORI : KIM, DAE SOO
GORO : RYO, KI YOUL

Sun.Jun. 26, 2011
CIO-CIO SAN : GIULIA LEE
F.B.PINKERTON : ALESSANDRO LIBERATORE
SUZUKI : YAMG SONG MI
SHARPLESS : HAN, MYUNG WON
BONZO : SOHN, CHUL HO
YAMADORI : KIM, DAE SOO
GORO : RYO, KI YOUL

Directions
---